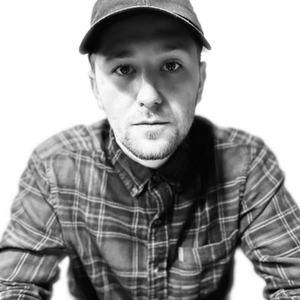 Andrew Chris
Special guest
Andrew has described his sound as "Mac Miller & Jimi Hendrix's illegitimate love-child, raised by Tame Impala".
Andrew Christopher Haran is a 25 year old Pittsburgh musician. He first appeared in live bands on multiple instruments: The Weight as a guitarist, The Crooked Select as a producer/vocalist, Isaiah Small as a drummer, to name a few. During this time he also was forging his solo projects, going by the names of "School of Thought", "FM SNÖ, ICONIC, and then finally landing on his real name: Andrew Chris.
It was guitar-based music from the 60s & 70s that made Andrew want to start learning music. Jimi Hendrix, Led Zeppelin, Pink Floyd, Cream, & Ten Years After were constantly shuffling on his 4th grade Dell mp3 player. The teachers rarely noticed the earbuds, or maybe just let him be as they could obviously see he was "studying".
During middle school, Andrew's sisters got him into artists like Kid Cudi, Sublime, & Kings of Leon, igniting his appreciation for genre blending. By high school, he was so obsessed with The Black Keys that he practically formed a band to play the songs himself. James Blake, BadBadNotGood, The White Stripes, Tame Impala, Frank Ocean, Odd Future, Blackstar, & Mac Miller all started to influence Andrew's outlook on sound production heavily.
One day in Sophomore year of high school, he went over to a friend's house who had Reason6. For about 2 hours, he sat with headphones on, zoning out until his first beat was done. From that instant, he was sold. Since age 16, Andrew has released 15 musical projects, with production credits on many more. Constantly teetering between Hip Hop and Alt-Rock, Andrew lives somewhere in-between.
From Scranton's Paper County to Pittsburgh's Southside, Andrew consistently pushes the boundaries with his production. His sound offers something brilliantly refreshing; a strangely organic meeting between the old and the new. He likes to think of it as "Instant Vintage".
IG: @ders.ontap
Twitter: @ders_ontap
YouTube: On Tap TV
Andrew Chris has been a guest on 3 episodes.
November 23rd, 2021 | Season 0 | 1 hr 6 mins

bands, local, music, oklahoma

Brad Biggs and Johnathan Grissom talk about the Local Music Industry and interview Artist from Oklahoma and beyond. Each episode features spotlighted Artist and their music.

November 23rd, 2021 | Season 0 | 57 mins 53 secs

bands, local, music, oklahoma

Brad Biggs and Johnathan Grissom talk about the Local Music Industry and interview Artist from Oklahoma and beyond. Each episode features spotlighted Artist and their music. Bonus Thanksgiving - John plays our guest music!

September 14th, 2021 | Season 0 | 39 mins 58 secs

bands, local, music, oklahoma, pittsburgh

Brad Biggs and Johnathan Grissom talk about the Local Music Industry and interview Artist from Oklahoma and beyond. Each episode features spotlighted Artist and their music. This we we have on Andrew Chris from Pittsburgh, PA