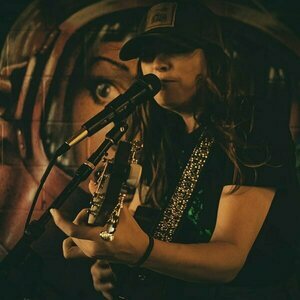 Nikki Jackson
Special guest
Nikki Jackson is an Americana singer/songwriter from Oklahoma City.
Nikki caught the music bug early. At the age of nine, she began singing in school and church choirs and writing her own music. She booked one of her first performances as a solo act at the Centennial Rodeo Opry in Oklahoma City, where she periodically returned to perform for nearly a decade. Her passion for music grew throughout middle school and high school. She began playing piano and would eventually pick up the guitar as well.
After high school, Nikki took several years off from performing due to her struggles with extreme stage fright, but she continued writing songs as a means to cope with life's obstacles and navigate her way through heartbreak, loss, and uncertainty. Her original music is drawn from her own personal experiences and tells stories of everything from losing a loved one to drug addiction to learning how to love yourself again after a traumatic relationship.
In 2018, she decided it was time to get back on the stage and began attending local open mic nights on a weekly basis. This allowed her the opportunity to develop her stage presence in front of a live audience and connect with other local artists whose music would eventually begin to influence her own songwriting and overall sound.
In the years since, she has performed at countless venues throughout the state of Oklahoma and is currently expanding her audience by taking her show to surrounding states such as Texas, Kansas, and Arkansas. You can find her debut single "When You Go" on all major streaming platforms.
Nikki Jackson has been a guest on 2 episodes.
June 14th, 2022 | Season 0 | 52 mins 9 secs

bands, local, music, nikki jackson, oklahoma

Brad Biggs and Johnathan Grissom talk about the Local Music Industry and interview Artist from Oklahoma and beyond. Each episode features spotlighted Artist and their music. Guest: Nikki Jackson

January 18th, 2022 | Season 0 | 42 mins 25 secs

bands, local, music, nikki jackson, oklahoma

Brad Biggs and Johnathan Grissom talk about the Local Music Industry and interview Artist from Oklahoma and beyond. Each episode features spotlighted Artist and their music. Guest: Nikki Jackson and Kody Tucker